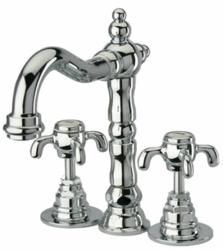 Aiken, SC (PRWEB) December 07, 2012
LaToscana Ornellaia collection of faucets and shower systems is a line of bathroom faucets designed in a traditional, old world style. The most characteristic and recognizable elements of Ornellaia faucets are their unique cross handles, sculpted spout bodies, and bell shaped shower head. The faucet body and rough-in valves are made out of solid brass, which ensures a long corrosion free life of the core material. It has to be noted that the shower hose is made out of nylon wrapped in aluminum, and the hand held shower heads are non-metallic in order to reduce their weight and heat transfer to the hand.
Ornellaia line of faucets and shower systems was traditionally sold in the oil rubbed bronze finish, recently replaced by Tuscan Bronze (very dark brown). Now LaToscana has added the polished chrome finish, which helps to coordinate faucets with different metallic finish in the bathroom (i.e. shower door frames, door hardware, etc.) sold by other manufacturers.
A note of explanation to those who are not familiar with Ornellaia shower systems: they come in eight configurations with varying amount of valves and water outlets. Starting with the simplest one, SHOWER1ON, composed of just two elements, the valve and the slide bar with a hand-held shower head. SHOWER2ON is another two element system composed of a valve and a stationary shower head. SHOWER3ON is one of the most popular systems with customers it incorporates a stationary shower head, slide bar with a hand-held shower head, a thermostatic valve, and a 3-way diverter valve. The same 3-way diverter valve is used with all Ornellaia shower systems because of its diversity it has six settings: three are discrete and three are shared. The shared functions allow two outlets to run at the same time i.e. stationary and hand-held shower heads at the same time.
SHOWER7ON is another contender in a popularity contest with customers, it incorporates the same elements as SHOWER3ON, plus it has a set of three body jets. The mentioned 3-way diverter valve is working to its fullest potential in this combination since it can operate all three outlets separately or have two of them combined together.
All LaToscana Ornellaia faucets and shower systems are now available at Warehouse USA http://warehouse-usa.com; they are on sale with free shipping throughout 48 contiguous states. For more technical information or if in doubt please dont hesitate to call 888-693-8066.