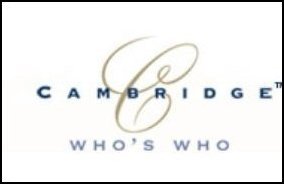 Washington, DC. (PRWEB) June 15, 2007
Richard E. Rowley, planning branch chief for the Federal Emergency Management Agency, has been named a lifetime member of Cambridge Who's Who for his work with FEMA, an agency of the United States Department of Homeland Security that coordinates the response to disasters which overwhelm the resources of local and state authorities. Inclusion in Cambridge Who's Who Registry is an accomplishment in itself and recognition as an accomplished professional is a rare opportunity. Cambridge Who's Who is committed to providing professional networking services and recognizing the achievements of professionals worldwide.
Rowley, an authority on dealing with disabilities and ensuring that critical information is disseminated to the proper people, received an associate of arts in science from Montgomery County Community College in 2006. A former local disaster assistance employee for FEMA, Rowley praised U.S. Representative Allyson Y. Schwartz, who represents the 13th Congressional District of Pennsylvania, after she proposed the Disaster Assistance Employment and Reemployment Rights Act legislation. Rowley said, "It is critical for the United States to have a system of well-trained, well-qualified individuals ready and able to assist in the event of disaster, whether it's natural or man-made. Congresswoman Schwartz is leading an important step forward to make certain that Disaster Assistance Employees are covered with reemployment protections."
FEMA's Mission

The prime mission of FEMA is to lessen the loss of life and property and protect the country from natural disasters, terrorism and man-made disasters by directing and sustaining the United States in a wide-ranging emergency management system of preparedness, protection, response and recovery.
Recent News about FEMA

FEMA held a National Conference on Community Preparedness entitled 'Partnerships and Collaboration through Citizen Corps' on June 11, 2007. David Paulison, Administrator for the Federal Emergency Management Agency spoke. He and the agency are urging the public to become part of local planning, training and exercising so that they will know what to do when a real emergency occurs.
For more information on volunteering with an agency involved in disaster response and recovery, visit the National Voluntary Organizations Active in Disaster, Citizen Corps and the Red Cross.
Protecting Yourself and Loved Ones During a Disaster

Being prepared is critical. You should be ready to take personal action even before a storm is forecast. FEMA strongly advises that the public has enough provisions for at least 72 hours after a storm strikes. The most important supplies to have on hand include food, water and a battery-powered radio. In the event that you are asked to evacuate, be sure to bring copies of important papers including checkbooks, driver's licenses, credit card information, birth certificates, social security cards and other forms and documents to establish ownership and identity. You should also be aware of local evacuation routes and the locations of nearby shelters. And, be sure to set up a plan for communicating with loved ones during and after the emergency. For further information on disaster preparedness, visit http://www.ready.gov or http://www.floodsmart.gov.
About Cambridge Who's Who

The mission of Cambridge Who's Who is to ensure that Cambridge members receive recognition, support and credibility to advance their careers. Cambridge Who's Who is also committed to delivering the highest quality networking resource for job recruitment, career enhancement and new business development. See who's making news and how our members are making a difference at our Cambridge Who's Who News Blog.
Cambridge Who's Who members have exclusive access to the biographical information of more than 200,000 successful executives, professionals and entrepreneurs at http://www.cambridgewhoswho.com, where they use the database to share information, knowledge and services. Communication via the Cambridge Who's Who Registry travels in two directions, enabling Cambridge Who's Who members to reach out when they have a business need or opportunity as well as receive information on exciting new ventures.
###