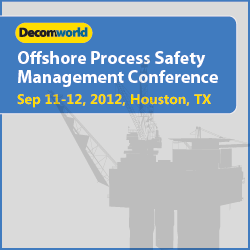 (PRWEB) June 21, 2012
The U.S Bureau of Safety & Environmental Enforcement (BSEE), American Petroleum Institute (API), Shell E&P, Apache Corp and BP will be partaking in discussions about the Safety & Environmental Management Systems (SEMS) rule from BSEE. SEMS is a management system for offshore oil and gas facilities that became effective November 15th 2011.
SEMS was implemented following the Deepwater Horizon/Macondo event. SEMS basically turns the well-established API Recommended Practice 75 and into a regulatory requirement. SEMS has 12 technical/management elements. BSEE has also issued a proposed extension to the rule, commonly referred to as SEMS II. The November 15th 2011 deadline has passed and operators of offshore drilling rigs and production platforms on the OCS should have a fully implemented SEMS in place. They must also have completed audits of their SEMS program by November 15th 2013.
Companies on the OCS are facing two particular challenges. The first is the tight deadlines imposed by the BSEE for operators to meet SEMS guidelines and expectations. Companies have very little time to make sure that their SEMS is complete, up to date and fully audited.

A second major challenge concerns the Operator-Contractor relationship. Contractors are not required to have a SEMS. However they are expected to adopt appropriate sections of operators SEMS and formally demonstrate third-party compliance, generally through the use of Bridging Documents. This has posed a real difficulty for contractors because each have a unique set of risks associated with their products and services. Thus, contractors must identify how to adjust to the safety and environmental needs of their clients.
It is still early for industry to adapt to the rigorous changes of offshore legislations and there are still teething issues that need to be addressed. Major stakeholders are gathering at the industrys first meeting to discuss SEMS regulations at the Offshore Process Safety Management Conference in Houston on the September 11-12 2012. Hosted by global business intelligence provider DecomWorld, discussions will cover SEMS regulations and expectations, SEMS implementation and development, the proposed SEMS II and the operator successes and challenges to date. For more information about the conference please visit http://www.decomworld.com/psm
Press contact: Adam Minkley. Tel: +44 (0) 20 7375 7239 E-mail: aminkley (at) decomworld (dot) com
Related Petroleum Press Releases