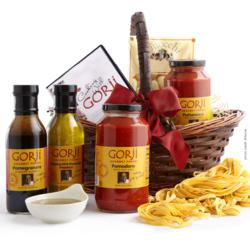 (PRWEB) December 11, 2012
From gift baskets to giveaways, Gorji Gourmet joins the ranks of artisan specialty products that are showing up on foodies wish lists across the country this season. According to the food industry, specialty food gifts will account for nearly $ 20 billion of the more than $ 120 billion that Americans will spend on gifts this holiday season.
And with a wide variety from which to choose, gourmet foods are easily matched to every recipient on your holiday list. Chef Gorji, the award-winning Dallas chef of Gorji Gourmet Foods, has designed an edible gourmet gift basket full of his acclaimed New Mediterranean pizza and pasta sauces, vinaigrette dressing and dipping oil primer.
CraveLocal.com, a new lifestyle website, is featuring a full set of the celebrated Dallas chefs sauces through a Facebook giveaway promotion through Dec.15. The website recently reported on how Gorji Gourmet Foods Pomodoro and Puttanesca Sauces for pizza and pasta provide a fresh, no fuss base for a tantalizing gourmet pizza. Click here for the recipe featured on CraveLocal.com using Gorji Gourmet Foods products.
Gorji Gourmet Gift Baskets will also be featured on Channel 8s foodie-friendly Good Morning Texas lifestyle TV show Wednesday, December 12th as part of a story about artisan food gifts and the new website Artizone.com, which delivers these and other epicurean goodies straight to your door.
Gorji Gourmet gift baskets benefit breast cancer research and patient care through an alliance with Texas Breast Specialist Dr. Alison Laidley. Fifteen percent of each basket goes to non-profit Laidley's Ladies and Gentlemen to assist under-funded families to achieve excellent breast cancer care.
In addition to the CraveLocal.com promotion, Gorji Gourmet Gift Baskets are available at GorjiGourmet.com, Artizone.com, Celebration Market and Canary By Gorji Mediterranean, Steak and Seafood. Shipping and local delivery is available.
Top 5 Reasons to Give Food Gifts:

Food gifts are always right A food gift will never be the wrong size or color, and theres nothing to assemble.
Food gifts are a reason to get together with family and friends to enjoy a delicious meal and great conversation around the dinner table.
Food gifts fit into any budget The diversity of food gifts at varying price points allow you to develop a package that fits perfectly into your holiday gift budget.
Food gifts are simple, stress-free and you can use them right away.
Food gifts are easily ordered by phone and online and are delivered directly to the gift recipient.
Chef Gorjis product line, Gorji Gourmet Foods