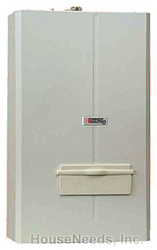 Waitsfield, VT (Vocus) May 28, 2009
Houseneeds.com, The Vermont based internet seller of energy efficient, environmentally friendly heating and ventilation products, has partnered with Embassy Industries, to offer the new Embassy Ambassador Onex Condensing boiler to homeowners across America. This boiler was certified as 93% efficient by the US Department of Energy, and it qualifies for the new 2009-2010 Energy Efficiency Tax Credit — Thats up to $ 1500.00 of the cost coming back to the homeowners pocket!
A Condensing Boiler is a home heating system that is designed to recoup energy that conventional furnaces and boilers lose. Most houses have small pipes that discharge excess heat out through the roof – they often look like small chimneys. Condensing boilers capture this excess energy and put it to use. A condensing boiler literally condenses water vapor produced by the consumption of gas or oil in the boiler. This condensation, in turn, allows the latent heat involved in the vaporization of the water to be used usefully in heating your home.
As of 2007, condensing boilers are now often replacing "conventional" systems in Europe. The Netherlands led the way, but now other nations, particularly those with aggressive "green" goals or high fuel costs, have also joined the rush toward the use of condensing boilers. In the United States there has been a more recent serious look at these boilers as gas and oil prices have become dangerously unpredictable.
So, what would the conversion to a condensing boiler system mean to a typical U.S. home? First the scientific explanation: The Embassy Onex Condensing Boiler achieves up to 93% thermal energy efficiency. The system you have now, assuming it's a conventional system, probably only has about 60%-80% efficiency. That 20-40% difference in efficiency will translate to a savings between 30-50% on home heating bills. As an added bonus, the Onex Condensing Boiler reduces a family's "carbon footprint "by burning less fuel more efficiently. This reduction of fuel consumption as helps to reduce global problems such as reliance on foreign oil and global warming.
In terms of upfront cost, condensing boilers are more expensive to buy than conventional types of boilers. However, the new 2009-2010 Energy Efficiency Tax Credit, state and federal grants, and rebates help offset the cost. The cost of installing a condensing boiler could be recovered in about 2-5 years at US 2007 oil and gas prices. Of course, this depends on the climate where you live, but it's a given that after a relatively short period of time, your condensing boiler will be saving you money every day you heat your home!
For more information on all the boilers that Houseneeds sells, including the Embassy Ambassador Onex Condensing Boiler and the Triangle Tube Prestige series, visit this link:

http://www.houseneeds.com/shop/atop/boilerindexpage.asp
For more information on the 30% Energy Efficiency Federal Tax credit, please visit this link: http://www.houseneeds.com/shop/heatingproducts/boilers/boilers_taxcredit.asp
For more information on many other Common Sense Heating, Cooling and Green energy Solutions, visit the Houseneeds.com homepage:

http://www.houseneeds.com/index.htm
About Houseneeds.com:

Houseneeds.com was created in 1999 in the heart of Vermonts Mad River Valley. Houseneeds.com has made it their mission to bring the best in energy efficient environmentally friendly products from all over the world to homeowners across North America. Houseneeds.com offers Common Sense Heating, Cooling and Green Energy Solutions with a level of friendly expertise that cannot be rivaled anywhere. Contact us at 866-Heat-123 or visit our website 24 hours a day at Houseneeds.com.
Contact

Gary Johannesen

Head of Sales

Houseneeds.com

802-583-5523

http://www.Houseneeds.com
About the Author

Joshua Meyer is a freelance journalist based in Burlington, VT. He received a Bachelor of Liberal Arts from Goddard College in Plainfield, VT in 2000. His focus is on Energy efficient Heating products and Green Technology. Mr. Meyer is currently at work on a children's book that helps explain the current energy and environmental concerns we face today.
# # #
Related Gas Oil Prices Press Releases