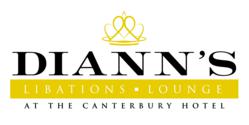 Indianapolis, IN (PRWEB) January 24, 2012
Turner Woodards Canterbury Hotel, with prime location to Super Bowl Village, Lucas Oil Stadium and the NFL Experience, announces final guest preparations for fans coming to the Hoosier state to celebrate and cheer on the New York Giants and the New England Patriots.
The hotel, now owned by Indianapolis businessman Turner Woodard, is known for its premier downtown location and independent ownership. In making final Super Bowl week preparations to create a unique guest experience, the Canterbury Hotel team will open the second story Dianns Lounge and Libations to complement the full-service first floor restaurant Turners Cocktails and Cuisine.
The second story VIP lounge provides Super Bowl fans: prime people watching on Illinois Street, easy access to Super Bowl Village on Georgia Street, a connection via Sky Walks to The NFL Experience and Lucas Oil Stadium. When our patrons enter through our brass doors, theyll experience a sanctuary from the hustle and bustle in Super Bowl Village on Illinois Street, which will be filled with throngs of fans. Theyll be able to enjoy a second story view of the Super Bowl experience, while relaxing in a comfortable atmosphere, and be able to come and go throughout the day, says hotel owner Woodard.
Super Bowl fans can preorder Dianns Libations and Lounge tickets via the Turners Open Table reservation page. The exclusive experience will: