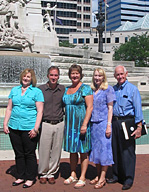 Indianapolis, IN (PRWEB) June 11, 2012
As of May 29, 2012, the respected Indianapolis law firm Ward & Ward will have a new location to call home. On that date, the firm officially relocated to their new office at 728 S. Meridian Street, Indianapolis, IN 46225.
The new office puts the legal team closer to the near south side of downtown Indianapolis, within the vicinity of Lucas Oil Stadium, which hosted the Super Bowl in February.
The location also offers easy access to both I-70 and I-65, while the building provides on-site parking for the convenience of clients.
While we have enjoyed our offices on the Circle for the past 18 years, we feel that on-site and handicapped parking will benefit many of our clients, particularly the injured and elderly clientele.
Ward & Ward was founded by the father-son legal team of Donald & Charlie Ward in 1994. Together, the two have dedicated their careers to providing focused and personal legal representation for clients who have been injured. For the past 18 years, the firm had been located in the Circle Tower Building.
The experienced Indianapolis injury lawyers at the firm represent clients with all personal injury matters including auto, motorcycle, and trucking accidents, wrongful death, head and spinal injuries, and medical malpractice. They also provide high-quality estate planning services, including assistance with wills, trusts, and asset protection.
Through their ethical work and professionalism, Donald & Charlie Ward have earned the respect of their clients, as well as the legal community.
About The Firm
Founded in December of 1994, the legal team at Ward & Ward has more than 80 years of combined experience. For more information about the firm, please visit them online at http://www.wardlawfirm.com or call 317-639-9501. They provide free initial consultations and are available to speak with clients 24 hours a day, seven days a week.