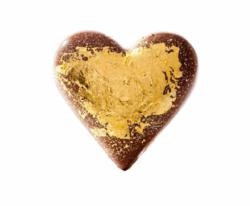 London, UK (PRWEB) February 13, 2012
Go beyond the usual bouquet of roses, that gorgeous box of chocolates or typical diamond earrings and seal the deal with something different this Valentines Day from Quintessentially Gifts.
Melt Chocolates Large Gold Leaf Heart Chocolate GBP 27
Every girl loves chocolate, so be the guy every girl wants and buy the best, not just another typical box of chocolates where each one is half eaten. This hand-crafted milk chocolate heart has been decorated by Melts chocolatiers with real gold leaf, and presented in a Melt brown box with pink shredded paper interior. What will really complete this present is a place on their truffle making course, allowing couples young and old to enjoy chocolate together.
Quintessentially Rose Heart Boxes GBP 90
Available with pink or white roses, Quintessentially Gifts and Quintessentially Flowers have come together to supply some original flower arrangements in the form of a woven heart basket filled with Piano roses in a bed of green moss.
Recently published in the Hello Magazine, these heart boxes are sure to surprise that special someone. They are available on both the Quintessentially Flowers and Quintessentially Gifts websites.
Bamford Unwind Bath Set GBP 102
Long day at work? Share the love together this year with this Bamford bath set after a hard day. This delicious bath set includes a love scented candle, which is sure to create elegance and romance in the home, organic camomile body oil for pure indulgence to enjoy together and unique rose pebble soap with heart shaped dish, very fitting for a romantic soak in the evening.
Taschen 75 Yeas of Comics: The Art of Modern Mythmaking GBP 135
Boys love reading comics when they are a child and to be honest nothing much changes when they reach middle age. So, why not surprise that man this Valentines day with the ultimate in comics from Taschen. This particular book outlines the 75 Years of DC Comics by Paul Levitz in the single most comprehensive book on DC Comics – an XL edition even Superman might have trouble lifting. It has more than 2,000 images which have been reproduced using the latest technology to bring the story lines and the characters and their creators to life.
And even though it takes 2-3 days to deliver, it is the ultimate in presents for that man who is still young at heart.
Quintessentially Travel Overnight London Spa Package For Two GBP 1,329
If as a couple it is hard to escape those busy work lives for Valentines Day, why not just escape for one evening? The Corinthia Hotel in London is offering an overnight spa package through Quintessentially Travel that includes 4